Senate Judiciary Committee Unanimously Approves the Timothy J. Piazza Antihazing Law
Moving quickly on a measure to make college campuses safer, the Senate Judiciary Committee unanimously approved a proposal I sponsored that, if enacted, will be a comprehensive rewrite of the state's antihazing laws.

At a news conference on March 21 in Bellefonte, I joined Jim and Evelyn Piazza to introduce the legislation. The bill is named in memory of their son Tim, a 19-year old fraternity pledge and Penn State University sophomore, who died after consuming lethal amounts of alcohol and suffering multiple falls during a hazing ritual.
The Piazzas have taken what is an unspeakable tragedy – their very personal heartbreak – and channeled it into pushing for what will be the most comprehensive antihazing law in the nation.
Senate Bill 1090 increases penalties for all of those involved in hazing; requires schools to have policies and reporting procedures in place to stop hazing; and informs students and parents of what is happening on campus. It also establishes penalties on hazing for organizations such as fraternities and sororities. The bill now moves to the full Senate for consideration.

I want this to be a model for establishing and strengthening antihazing laws nationwide. Just this week, the courts dismissed many of the criminal charges against those who were present when Tim died. This bill would give prosecutors the tools they need to punish those who irresponsibly put people in harm's way. Students also would have information to make good choices about the organizations they consider joining as well as safeguards they need to make good decisions in times of distress.
It is my hope that we can prevent future hazing-related tragedies by addressing prevention, enforcement and transparency.
State Senate Approves Bipartisan Crime Victims Package

The state Senate recently approved a package of bills strengthening protections for victims of crime and ensuring that victims and their families are treated with respect and dignity by the criminal justice system.
I strongly supported these bills, which are necessary to put the rights of victims on a level playing field with the rights of the accused and address the growing crime of domestic violence.
Six of the bills would strengthen and reform Pennsylvania's domestic violence laws, offer greater protections to victims of domestic violence and their children, and hold abusers accountable. Another measure, known as Marsy's Law, would establish a crime victims' bill of rights in the Pennsylvania Constitution to protect and expand the rights of victims of violent crime.
Senate Bill 313 makes it easier for domestic violence victims to remove the name of an abuser from a shared telephone plan.
Senate Bill 449 allows Magisterial District Judges to use a risk assessment tool when determining bail in domestic violence cases. (Tierne's Law) This bill goes to the governor's office for his possible signature.
Senate Bill 500 ensures that law enforcement protection is available to a victim before or while PFA orders are being served.
Senate Bill 501 requires a domestic violence defendant who is ordered by the court to relinquish firearms to surrender the weapons to law enforcement or a licensed dealer.
Senate Bill 502 makes it easier for the court to extend a PFA order when an abuser is released from custody.
Senate Bill 919 allows domestic violence victims who live in public housing to be relocated to another unit.
Senate Bill 1011 amends the state Constitution to create a crime victims "Bill of Rights." (Marsy's Law)
Examining How Congressional District Maps are Drawn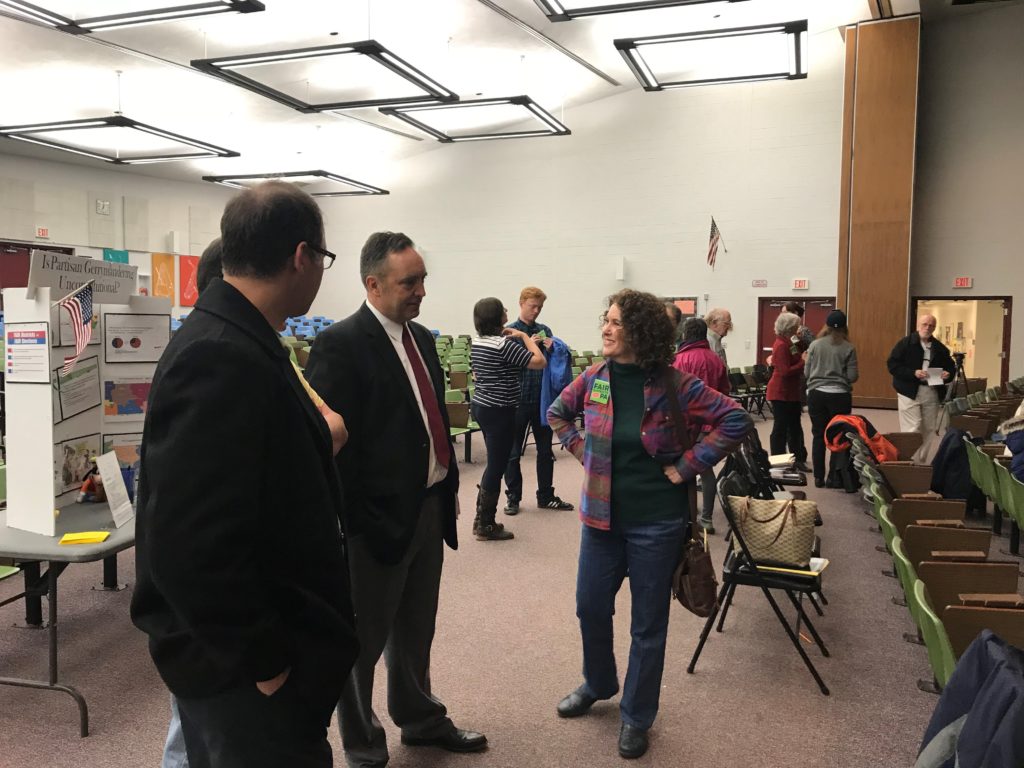 I recently attended the Fair Districts PA town hall meeting in State College. Representatives from California shared with the audience their model of drawing Congressional districts. I was able to talk with people who are passionate about changing our system. It was fascinating to hear about the California system. I look forward to continuing this process as the next set of Congressional maps will need to be completed in 2021.
Last summer, I had committed to examining how Congressional district maps are drawn in Pennsylvania. Redistricting normally takes place every 10 years, following the U.S. Census, to reflect population changes both nationally and within the state.
The Senate State Government Committee held a hearing Tuesday. It lasted almost four hours but the information provided was invaluable. I encourage you to go to the committee website and watch some of the hearing. The redistricting bills currently before the Senate include: Senate Bill 22, Senate Bill 243, Senate Bill 464 and Senate Bill 767.